If there has been water or smoke damage to a ceiling, the first thing you'll want to do is assess the damage. If the stains are water-based, they are worth painting over.
However, if the stains are based on another substance, painting may not be the best solution, so an evaluation is essential. If you have a similar situation with water leaks, smoke residue, grease stains, water spots, or any other stubborn stains in your interior paint continue reading. Here we will explain how to paint over water stains, smoke stains, or any other stain on a ceiling.
We'll also give you some tips on choosing the right paint for the job and some tips on preparing your ceiling for painting.
Is it worth painting over water stains and smoke stains?
Water stains and smoke stains can be a real headache. However, with the help of some basic supplies and a little knowledge, they can be fixed. Before beginning any repair, it's important to do your research and find the best paint for the job. Whether you decide to repair or replace the paint on your ceiling, be sure to take the time to consider all of your options.
Sometimes water and smoke stains on the ceiling are worth painting over because they can be fixed. However, if the damage is severe or the stain is impossible to remove, then it may be best to call in an expert to help you.
o matter what the situation, the important thing is to find the best solution and improve the appearance of your ceiling.
How do paint over water stains?
Painting over old water and mold stains might be a solution, but maybe not be the best. If the water stain is on the ceiling, first suck or dry as much of the spill as possible, the important thing is to remove the moisture before painting activities begin.
Water stain
If you have water damage on one of your walls or floors, there are several things you can do to get it out. First, test the area to see if the color matches other parts of the house. If not, it would be best to use white or light-colored paint so as not to overpower the surrounding colors. Before putting on a subsequent coat, be sure the previous one is dried. If at any point in this process the stain reappears, do not hesitate to use any means necessary to remove it once and for all.
Pre-treat the area with a water stain remover
If water has stained an area of ​​your home, it's best to fix the problem at its source. Waiting until the paint dries might lead to greater damage and make it harder to remove the stain. To prevent further accidents, treat the surface with a water-based stain remover before beginning any painting project. Once all stains and excess liquid have been cleaned, apply primer or paint according to your chosen method.
Steps to paint over water stains
If water stains are a common problem, here are some steps you can take to remove them:
Clean the area with a mild household cleaner, removing any soap residue.
Remove excess water and soap or stain remover used to remove dirt.
When the stain is dry, apply a non-toxic primer to the stained surface.
After the primer is dry, apply a coat of paint over the area to be painted and let it dry completely, wait for the first coat to dry, and apply a second coat if necessary.
How to get rid of water stains?
Water stains on the ceiling are a very common problem, but before eliminating them, the most important thing is to correct the cause that generates the stains. Once the problem is corrected, the removal of a ceiling stain can begin.
There are various ways to get rid of ceiling stains from different parts of the ceiling or walls. A homemade solution could be to mix white vinegar and water to quickly remove small water stains. Another option may be to mix baking soda and water. If the homemade options do not work for you, you can choose to buy a stain remover. However, the best option to remove stains from your ceiling is to clean the area, apply primer and paint again.
How to paint over smoke stains?
To paint the smoke stains, you must first remove the stains and leave the area clean and dry to later apply the necessary layers of paint. Painting over the smoke stains is not recommended as it may vary the color in the areas where the smoke stains are, so you will get a multicolored ceiling or wall, a total disaster.
Smoke stains
Cigarette smoke or something that caught fire can leave smoke stains on the ceiling. The first thing to do if you want your ceiling and possibly your walls to look nice and new after a fire is to clean it. You should do is clean the walls and ceiling with a little sugar soap is a very effective homemade option. After cleaning the area, rinse again with clean water to remove any remaining dirt, and then you can refinish and paint your ceiling.
Remove smoke stains
Smoke stains can be a real headache, but there are a few things you can do to get rid of them. If the smoke stains are fresh, try using a household cleaner to clean them but be sure not to rub too hard as this could further damage the surface.
If the smoke stains are older, use a special stain remover that takes more effort but works very well to remove these stubborn smoke marks. Subsequently, you must eliminate the residues of the used cleaner and do a previous treatment to the area where you plan to paint, in this way you can apply the paint safely.
Steps to paint over smoke stains
Painting over nasty smoke stains and getting a beautiful result is possible by applying the right steps:
Remove smoke stains with cleaners designed for this purpose, there are many on the market. For stubborn smoke stains, use an enzymatic cleaner or primer/sealer.
Once the stains are removed, clean up any residual material and check that the area is dry and ready to soak up the paint.
Start painting, and apply the layers of paint that are necessary, always respecting the drying time; that is, to apply a second or third coat, the previous coat must be completely dry.
How to get rid of smoke stains forever?
If you think smoke may have seeped through the ceiling and into the lower rooms of your home, one way to remove it's to use mild soap and warm water for fresh stains. If that doesn't work, you can try using a commercial smoke stain remover. If all else fails, the best option is to hire an expert.
Smoke and water-stain-free ceilings
If water or smoke damage has left water or smoke stains on your ceiling, don't despair. There are some simple steps you can take to remove stains and restore your ceiling. You already know the steps you must follow to paint over water stains and smoke stains. Be sure to follow the instructions correctly to get the best results.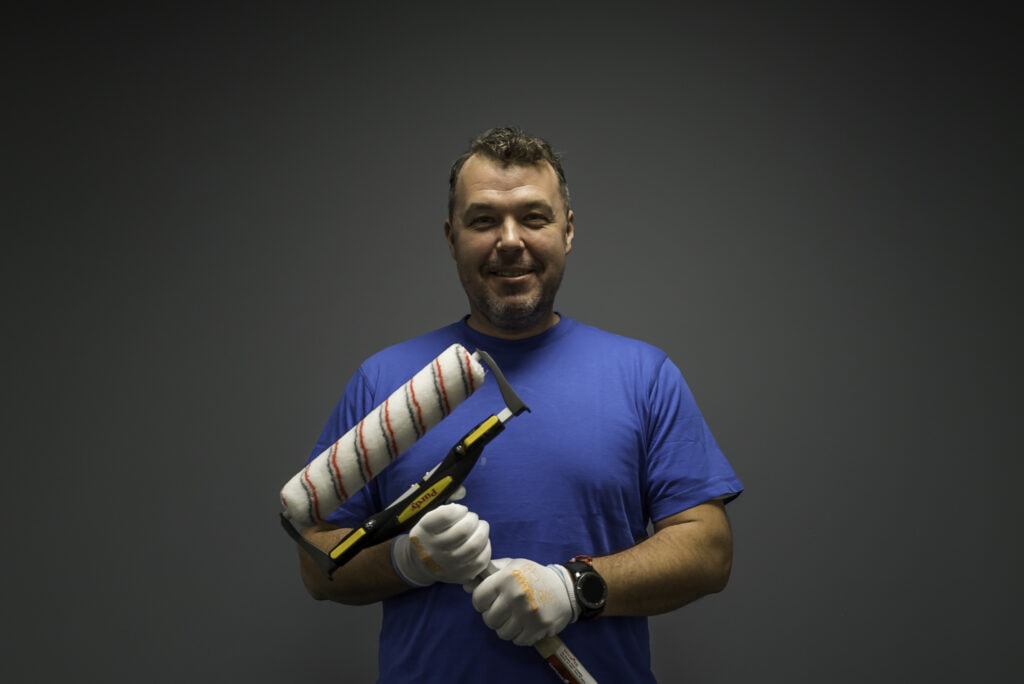 Robert Martinak is a Painting Technology Specialist with over 30 years of experience in the field. He is based in Dublin, Ireland and has extensive knowledge and expertise in the application and management of painting projects.