If you're looking for a professional way to modernize your home or office, spray painting is the perfect solution. Spray painting is not only quick and easy, but it also offers a wide variety of creative possibilities. From redecorating walls to adding new colour accents, spray paint can take your project from drab to fabulous in no time. At Painting in Colour, we will help you materialize your project with our spray painting service and get all the details right. So whether you're looking for a quick paint job or a more extensive renovation, we're the perfect company for you!
What is Spray Painting?
Spray paint commonly referred to as aerosol painting is a particularly specific substance that is designed to paint quickly and on small surfaces. Although graffiti is its most well-known application, spray paint is also employed in furniture decoration and restoration projects because it works well to cover areas where a brush doesn't produce the desired results.
What to expect during the spray painting process?
When it comes to spray painting, there are a few things to keep in mind. First of all, make sure to prepare your surfaces before you begin. Then follow the manufacturer's instructions to spray primer and paint as needed. All of these tips will help you reduce possible changes in texture.
Preparing the surface
Always clean the surface to be painted; this will help reduce the amount of cleaning that needs to be done later. Subsequently use a primer if necessary; this will help the paint adhere better to the surface so there is less chance of mistakes or drips during painting sessions. Then wait for the primer to dry completely, this way the surface will be ready to be painted.
Apply the spray paint
Spray painting can be a fun and creative way to add character or colour to a room or business. However, it's important to be careful when using the paint so you don't end up damaging your walls or furniture.
When painting the walls or ceiling, you should start with a light coat of paint and then add more coats as needed until the desired finish is achieved. This way you won't have to worry about overspray and potential problems later on. Between each coat of paint, wait until the paint is completely dry before moving on to the next coat; this will minimize any potential damage from overspray.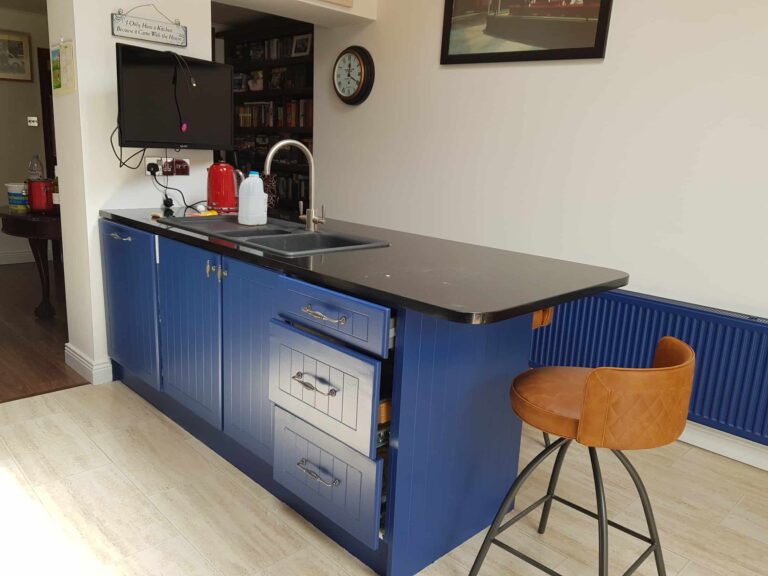 Putting the finishing touches
On any painting project, always protect your furniture, ceilings, or anything else outside the scope of the project before you start spraying paint. Pay attention to the surface finish between coats, moderate amounts of spray are needed when applying paint so it doesn't run off the surface too quickly and foul surrounding areas with unwanted staining or dripping.
How to choose the right spray painting company?
There's nothing like a good paint job, and spray painting is the perfect way to do it. But how do you choose the right spray painting company for the job? Start by checking their license and make sure they are insured for the job. You may also want to ask about their warranty policy, if something goes wrong during the spraying process, you may be covered.
Next, do your research and find a spray painting company that has experience in your area. Get a quote so you know exactly what you're paying for. And lastly, have some fun with spray paint, it could make your home or business look better.
Do your research
When it comes to any type of contract, make sure you fully understand all of the terms and conditions before you sign on the dotted line. This way, there will be no nasty surprises later down the road. To choose a good spray paint company, do your research first. People you know can often provide valuable information about who they have used in the past and whether they were satisfied with their experience. customers.
Also, consider online company reviews as this will give you an idea of ​​what kind of services they offer and how reliable they are. Remember that customer satisfaction is key when choosing a contractor; always look for companies with positive ratings from previous
Get a rough estimate of the cost
To get a rough estimate of the cost before you start painting, it's important to have some basic information. For example, what kind of paint will you use? How big will the area be painted? What material is the surface to be painted made of? Once you have this information, it's time to request a quote. Always get quotes in writing so both parties know the exact scope of the project, both financially and practically. In Painting In Colour we are ready to give you a free quote, just call us!
Consider the experience of the company
When hiring a spray painting company, it's important to consider not only their skills and abilities but also their experience. In this way, you can be sure that the work will be carried out most efficiently and satisfactorily possible. It's also helpful to do a little research before making a decision. Take a look at companies with good reviews and compare their portfolio to your project requirements. Finally, always ask questions so that you are completely sure of the chosen company.
Spraying Painting is More Than a Job
Spraying is one of the most affordable painting services you can get to refresh the appearance of your house. It's a highly recommended service within the area of Dublin as the cold weather allows less time to finish jobs properly.
In fact, spray paint is one of the hardest exterior painting jobs to master. The equipment runs with electric motors and pressure gauges that make it harder to control and apply a perfectly even coat. But, worry not! There won't be any overspray with our professional painter.
As a team of expert painters, we are capable of doing the job with a clean and smooth finish. Our team has more than a decade of experience with the sprayer and has completed numerous drizzle projects, with maximum satisfaction guaranteed. With us, drizzling takes less time to make your worn house, apartment, office, and school come to life again with sparkling colours.
Whether it is a house or apartment building with lots of floors, we guarantee a quick and effective drizzling service that leaves nothing out of the place, all painted with a delicate finish. Looking for specialise painters in Dublin? We are ready to meet your target!
The Best Team for Your Spritz Projects
We are one of the most reliable professional dyeing companies in the area and have been serving folks for more than a decade. We have a strong reputation for providing quality services, with years of experience behind us, so let us handle your task with confidence.
We have the best spray painting equipment that enables us to deliver top-quality work with a minimum of colour, and maximum results. We guarantee you a perfect result with no air bubbles or any other unsightly problems.
We are one of the most reliable professional dyeing companies in the area and have been serving folks for more than a decade. We offer the best quality services to all our clients and that too at competitive prices. We have a team of experts who are specialized in spraying paint. We know how to make your home and business look good. Our professionals use the latest techniques while dying walls so that they come out looking amazing. You can trust us with your projects as we use only high-quality materials for our painting process.
We are ready to tackle and complete your spray paint projects at your location. We can also assist in your spritzing jobs at home, in offices, schools, and commercial spaces; we promise your space will have a fresh, new look when we are done.
So, What Are You Waiting For?
Don't let your house look old and outdated. Have us assist you in getting a quality spray gun painting service that is guaranteed to give you the best result. We are proud to be able to provide highly skilled painters and equipment with a friendly and courteous approach. 
We understand that taking on such an important project can be daunting, especially if you have never had work done on your home before. We are more than happy to answer any questions you may have and help put your mind at ease. We use only the finest quality materials and our prices are highly competitive. Please do not hesitate to contact us for a free quotation.
Spraying Painting Is All About Dedication
If you are tired of paying for a paint job that will leave you with a mess, then we have the best equipment and professionals to provide you with the best service possible. We are dedicated to giving you complete satisfaction when it comes to your spray painting jobs and our company is dedicated to providing quality services at reasonable prices.
Spray painting is similar to shooting a gun at a target. You need a steady hand and be able to hit your target every time. Our team has been through the training process for years. You might say we are excellent marksmen
We are dedicated to providing quality services at affordable prices and our dedication is evident in the way we handle our work. We guarantee you will not regret hiring us for your spray painting projects, committed to quality.
Perfect for Every Surface
We are experts at spraying and tinting all kinds of surfaces, be it an open space, a big room, a cabinet, a kitchen, a bedroom, or a bathroom; you name it, we can do it.
If you are looking for a reliable and professional painter that will leave you with a perfect result, then we are the right choice for you. Our team is experienced and we have been through the training process for years so you can be assured that we will provide the best results possible with our spray painting services.
Bedrooms and Master Bedroom
The most intimate part of the house needs to be neatly painted to get the perfect harmony of your home. We believe in our capable team to get the job done with the right spraying equipment for maximum accuracy. Experience is our forte.
Dining and Kitchen
We use our speciality to delicately tint your kitchen and dining ensuring zero-VOC emission and quality finish. We guarantee a fresh place to dine without worrying about paint fumes.
Only the Best Quality Paints
When it comes to tinting jobs, we only use the best quality paints that are environmentally friendly and safe for your family. As a result, you will get a perfect finish without worrying about toxic fumes. We guarantee you will not regret hiring us for your brushless tinting projects. 
In fact, we are a trusted name in the town and we do not compromise with quality. Our rates are affordable and we offer high-quality materials that will protect the walls, and be durable enough to last more than five years. We only buy from Fleetwood and Johnstone paint companies that produce some of the finest quality paints in Dublin.
Not only that, our trained painters in Dublin are all equipped with the latest paint spray guns with precision nozzles for higher power, speed, accuracy, and fineness. Our painters always work to the highest standards, and we are confident that you will not be disappointed with our services. Rest assured, we got your back!
Affordable Spraying Painting Price Range
We understand that there will be different customers out there with different financial needs. As a result, we have put together an affordable price range to cater to every kind of customer.
Don't worry, a lower price range doesn't mean low-quality paints as we do not ever go for anything less than perfect. The differences may reside in the number of coats, the number of painters assigned, the quantity of thinner, less surface area, and miscellaneous that do not conflict with the finishing quality.
We never rip off our customers with high-cost low-output services. All our services are worth every penny you spend – we make sure to count it. When you are ready for a spray service, we will come to inspect the site and discuss the total cost of the project. We don't even hide a nail between the fingers, you can check the whole costing plan with 100% transparency. We serve with trust.
How Our Spraying Painting Starts
Spraying is one of the fastest ways to make your house look fresh and attractive. Dyeing has been made easier for Painters Dublin with our state-of-the-art equipment, which makes it possible to apply a smooth coat of paint without damaging the existing surface.
We will provide you with a detailed list of steps involved in spray tinting so that you can understand the process better.
Preparation:

We will make the necessary preparations for the surface that needs dyeing by removing any old paint, fixing any cracks or holes in the walls, and using primer for new coats.

Cleaning:

Before the actual process, we will ensure that the surface is clean and dry.

Preparing the Spray Equipment:

We will use spray guns, paint thinners, primers, and other supplies with quality materials that pass the QC test.

Preparing the Material:

We will prepare the paint according to the customer's requirements. We will also provide samples of paints for you to check if you are satisfied with our procedures.

Painting:

We do not just spray a coat over an existing surface but we will make sure that it is evenly distributed throughout all the walls. The sprayers are set at different angles so as to achieve an even distribution of shade over all surfaces.

Cleaning:

After spraying, we will clean everything including our equipment and tools thoroughly before putting them away in case there are any leftover bits of paint or other debris leftovers from the previous process that could result in a mess.

Finishing:

We will apply several coats of finish coat on the walls after the process is completed.

Refinishing:

If you have any furniture in your house that was not previously painted, we will also be able to provide you with the services of refinishing so that your furniture can be repainted as well.
Gallery
Check our completed job gallery. We have been serving the best quality spraying painting services in Dublin and our customers are all satisfied with how we have performed.
These colourful walls are a testament to our passion and dedication towards our services and everything that defines our reputation. We are happy to serve.
Ready For Spraying Painting Service in Ireland?
We are a team of perfectionists and we are armed to the teeth with all the necessities to finish a job with no brush marks. But in order to get the best result, you can contribute some effort for a smooth job finish. Here's what you can prepare-
Leave a space in the parking lot for us to bring our tools trailer.

Make sure to keep your children and pet away from the working area.

For indoor walls, please remove sharp, precious, and delicate objects from the working space.

Turn off the gas and ovens in your kitchen.

·For outdoor walls, please remove any plants and flowers that might be in the way.
Thanks for helping us do better.
Safety Measures
Spraying painting is a job that requires precision and care. That's why we take safety measures to prevent any unnecessary events from happening. We have a well-equipped team with safety gear, masks & filters for the painters, proper compensation for unexpected situations, and OSHA complaints, a highly-trained supervisor to take care of the team, and properly stored tools & materials.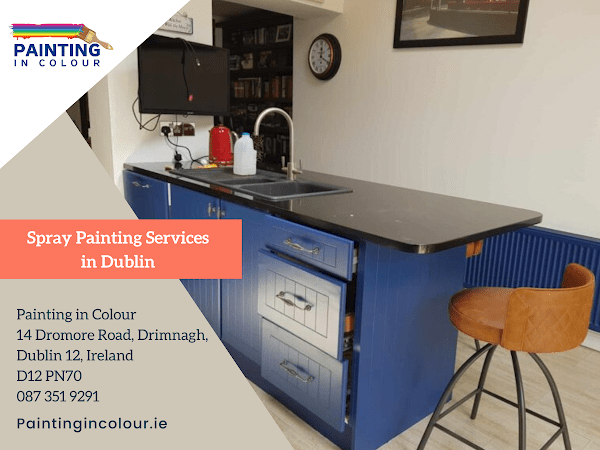 How do I choose the right type of spray paint for my project?
When it comes to choosing the right type of spray paint for your project, you'll want to keep a few factors in mind. Some of the things you'll need to consider include the material you're painting on (wood, metal, plastic), the climate where you'll be using the paint (hot or cold), and what level of preparation is needed before painting (super glue and primer required).
What types of surfaces can I spray paint?
You can spray paint any type of surface, as long as it is clean and dry. Be sure to use a low-pressure setting when spraying so the paint doesn't bead on surfaces. And lastly, remember to let the paint dry before you touch it.
What are the benefits of using spray paint?
Sprays are a more volatile type of paint, which means that more are sprayed with each stroke, making the painter's job easier and faster. In essence, less paint is needed to achieve the desired results, which means less waste and a cleaner paint surface. One of the great benefits of sprays during the painting is the wide variety of colours that can be achieved. Traditional paints only come in limited colours, but spray paints have a much broader spectrum of hues that are perfect for creative people who want to experiment with their art. Plus, sprays tend to be less messy when used, making them ideal for people with busy lifestyles.