Painting In Colour has been upgrading the kitchen environments with fine-grade paints & quality finishes. Hold your breath to see your kitchen blooming with energy and spreading the life colour in your house.
Flawless Kitchen For Perfect Home
Kitchens are always a battlefield for diners. Every day's bruise and dust can easily take away its remaining charm quickly. As time passes, your kitchen looks withered along with losing all its colours. A dull kitchen can swing the mood of the whole family into the gutter.
But worry no more. Our Company comes with high-quality painting methods to resurrect the beauty of your kitchen entirely to a new dimension. Our expert painters in Dublin can replenish the lost elegance of your cooking area with the best kitchen painting service you could ever find.
Your ever-deteriorating kitchen will be coloured in new paints and all corners will dazzle with shining colours. We offer the best customer service and never fail to fulfil our promises. We will make your cooking area look perfect with your home in minutes.
We mostly offer quick solutions for your kitchen room that doesn't need changing the cabinets. You can still use the same old setup but be ready to be surprised by the whole new color of the kitchen you never knew before. Your kitchen is the heart of your house and Painting In Colour will caress the heart with utmost liability. We do care.
Repaint Beyond Remodel
Kitchens have the most wooden surfaces in your house. The daily abuse can easily chip away the lifetime of these wooden cabinets. You can hardly breathe in such a lifeless room filled with dull paints and moss.
This is where we step in. Painting In Colour will gladly take the chance of revamping your scullery environment by sizing up all the dust & rust piled inside the cabinets. We will not be abusive and carefully remove the grease from the woods built up from all the cooking classes before applying the kitchen sprayings.
Only after carefully decorating the cabinet doors with refreshing colours, we will touch the whole room with delicate paintbrushes and bring out the charm of your cookhouse. You will be surprised. It's our promise!
New Look With Old Taste
Painting In Colour can work on the kitchen cabinets with any wooden surface, plastic veneer, or MDF. Our painters in Dublin can easily restore the features of the woods with proper hand-sanding. Our expert men will repair any tear or broken pieces of wood and perfectly use the kitchen sprayings to achieve a maximum smooth finish.
The old look of your bakehouse will be replaced by a new refreshing look that will bring a new sensation to your home. You will not feel alienated by new cabinets and can taste a whole new look of your cookery with the same setups. New looks mean new possibilities. Savour the perfect beauty of your cookhouse.
Best Paints For Best The Kitchen
The kitchen is a delicate part of your house. It needs to be the most hygienic place as well as needed a perfectly dry & cool environment. Normal paints can't provide a good comprehension of your kitchen and they may cause harm by emitting toxicity. Paint could get wet while making the whole kitchen a mess.
Painting In Colour carefully picks the best paint for your kitchen coating that blends well with the surface. The paint we use isn't toxic, the colours are natural, and they cause no harm to the place.
We understand that in a kitchen, heat could raise up to a few hundred degrees while melting the paints in your surroundings. You could see them peeling off or bubbling which could get worse. To avoid that, we only use top-quality paints from Fleetwood and Johnstone.
These are not only the best in the local but they have the perfect combination, making the paint tolerable to the harsh & smoky enclosure of the kitchen room. We also spray extra layers of paint to make a glossy surface that prevents oils from building up on the surface. Stay relaxed, we got this.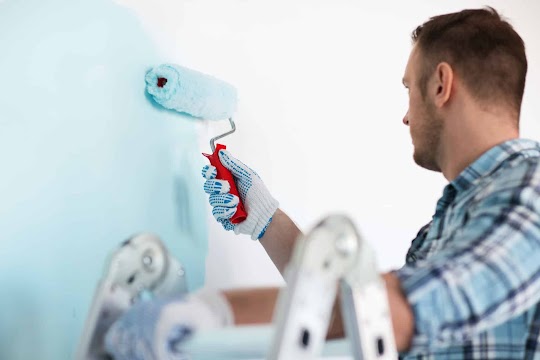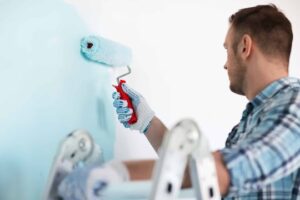 Expert Hands With Affordable Prices
Painting In Colour offers the most affordable, budget-friendly kitchen spraying packages in Dublin. We are experts when it comes to painting and we care more about trust than money. Our painters in Dublin can change the appearance of your old cookery room into a completely new one with quality paints and sanding.
So, you don't have to worry about buying a new cabinet and throwing away the old ones. Instead, you can save the whole budget and only pay for the painting service. Our spray paint service is top in Dublin and also the most affordable one. No need to spend huge but the right amount to get the best kitchen refinishing job in your neighbourhood.
Try The Best Kitchen Spraying Service in Dublin Area:
A fresh new look on your kitchen door
Well-polished kitchen cabinet door with proper colours
Perfectly smooth painting finish
Repairs for broken wooden cabinet doors, nail removal, plug-holes
Glossy finish with all non-toxic paint materials
Painting In Colour has a solid record of perfect job finish for a ton of kitchen spraying projects. Our staffs are skilled professionals with years of training and expertise in their respective fields. We take pride in displaying the job done for our respected customers as we build up this gallery. You can take a glance at the fine finishing for spraying kitchen jobs with the combination of perfect paints. Quality is guaranteed.
How We Start
Professional painter from our company comes from an aesthetic sense where we like to spell everything we would be doing in your kitchen beforehand. We will come prepared with all the necessary tools. And we will do preps before the main kitchen spraying starts. We will-
Clean all surfaces of the kitchen spotless
Dismantle the cabinets and clean each part carefully
Cover all non-paintable surfaces with thick plastic sheets
Sand the wood surfaces with dustless vacs
Degrease the surfaces with rubbing alcohol, soap, & steel wools
Carefully paint the wooden area after applying primer
Paint again & repeat
Assemble all back to where they were
Remove anything odd from the surfaces
As we said, we will handle it professionally. Our team of experts can quickly & efficiently finish all preps so that nothing gets out of order.
Need Any Preparations?
Painting In Colour comes prepared so you don't have to bother with this and that in your new kitchen. But there are a few things you can prepare to make the job smoother.
Leave a space in the parking lot for our tools trailer to arrive
Finish your meals before we start as the kitchen will be occupied during brush painting.
Leave the doorway open for the painters to work comfortably
You can choose to stay during the spraying as it won't be bothering your space
That's all you got to do. The rest will be managed by us.
Safety First
Although the spray painting job doesn't require any high level of safety measures, we still follow the book and ensure proper safety protocol during the work. We take safety by-
Team with safety gears & equipment
Masks & filters for the painters
Proper compensation for unexpected situations
OSHA complaint
Highly-trained supervisor in the work area
Properly stationed tools & materials
Painting In Colour takes pride in ensuring maximum safety in the workspace by properly applying the safety drills. Our team of painters in Dublin is the best as well as trained properly. We guarantee a clean job with no one hurt from either side. Safety is our top priority.
Precautions
Despite being all safe and sound, unfortunate accidents happen in the world. Painting In Colour is highly concerned about the safety of the team & the client. We remind all again & again about the precautions that would save lives by preventing causes of accidents. So, please-
Don't leave the gas on. Although we will check everything ok before we get our hands on the job, it's also your responsibility to prevent accidents
Don't hang around the paint sprayer area or dip your hands into the paint.
Don't toss burning things in the kitchen when we are spraying. There are flammable materials in the paints that may threaten life
Don't leave kids & pets strolling in the kitchen while the work is proceeding
Don't play with the tools we bring for the job
As for the reminder, please take good care of the work area to prevent any unexpected development. We love our keens as well as our customers. We prefer maximum safety and precautions to ensure the well-being of both parties.
Call Us to Get Your 100% Free Quote
We are ready to sit down with our clients and discuss their projects. We listen to your proposals, suggest possible alternatives, and carry out the perfect plan to establish your dream project. Our appointments are always open for you. Contact us through email or call us to get your free quote. 
Our consultations are free of cost. We aim to fulfill your needs to the best of our capabilities. Customer satisfaction is our number 1 priority. We guarantee the safe execution of your project and always try to provide you with the best services.
For more information about our interior painting services please contact us today on 087 351 9291 or email info@paintingincolour.ie
How much does it cost to spray kitchen cabinets?
While this is a difficult question to answer since it depends on many factors, including the size and layout of your kitchen cabinets, one estimate puts the cost at around $200. This price may increase or decrease depending on the time of year and other factors, so it's important to get a quote from a professional before beginning any work.
If you don't have an immediate need for new kitchen cabinet doors, then another option is replacing them with vinyl ones. This can be done relatively cheaply if you do it yourself by following some simple instructions that are available online or in most home improvement centers. If you'd like help selecting the right type of door for your needs, then contact a qualified contractor who will be able to provide estimations based on your specific situation.
How long does it take to respray a kitchen?
When it comes to respraying a kitchen, the time required will depend on the size of your kitchen and the type of paint that you are using. A smaller kitchen might take between 2-4 hours, while a larger one may take up to 8 hours. In addition, depending on the weather conditions and other factors such as traffic congestion, your painting project might also be delayed.
When choosing a contractor or painter for this task, make sure to ask them how long their typical project takes and what contingencies they usually put in place in case of unexpected delays. This way, you can have confidence that your project will run smoothly without any disruptions.
Is a kitchen respray worth it?
While a kitchen respray may not be the most expensive or time-consuming project you'll ever undertake, it can give your kitchen a fresh new look and feel.
Are spray painted kitchens durable?
While there is no one-size-fits-all answer to this question, most painted kitchens are generally very durable. This is because the paint acts as a barrier that protects the substrate from being damaged by spills and weather exposure. Additionally, many paints contain additives that help to resist staining and fading.
However, it's important to note that painting your kitchen yourself might not be the best option if you're looking for a high level of durability. Painting professionals have access to special inhibitors and coatings that make the job much more difficult than necessary which can result in peeling or cracking of your paintwork over time. Plus, they use additional materials such as sandpaper and brush pads which can cause damage when applied incorrectly or with excessive force.
Do sprayed kitchens chip?
Sprayed kitchens often chip because the liquid wood preservative mist sprays onto tiles, furniture, and other surfaces and hardens like concrete within minutes. This causes tiny chips to form that can easily become detached from the substrate and end up in your food or on your hands. If this is a concern for you, it may be best to avoid sprayed kitchens altogether. Alternatively, you can use a water-based or oil-free product as a substitute.
Is it better to paint or spray kitchen cupboards?
There is no definitive answer to this question as it depends on your individual needs and preferences. Painting kitchen cupboards can be a long-term investment that may save you money in the future, while spraying them might be more convenient for you right now. Ultimately, it is up to you to decide what works best for you and your home.
Is it better to brush or spray cabinets?
There is no one right answer to this question, as the best approach may vary depending on the type of cabinet and your personal cleaning requirements. However, generally speaking, brushing is better for hard-to-reach areas while spraying can be more effective on vertical surfaces.
When choosing a method, it's important to make sure that you are using a cleaner that is safe for both wood and your cabinets' finish. It's also important to avoid using harsh chemicals or abrasives when cleaning your cabinets – these could damage the finish and leave them vulnerable to dirt and stains. Instead, use gentle cleaners like liquid soaps or towel drying systems that won't harm the paintwork.
What kind of paint do professionals use to paint kitchen cabinets?
Professional-grade paint often contains higher levels of lead, which is a toxic chemical. When it comes to painting kitchen cabinets, this can be a problem because high levels of lead can leach out and contaminate the environment. Therefore, if you are considering professionally painting your kitchen Cabinets, it is important to choose an EPA certified paint that does not contain lead.
Some other things to keep in mind when choosing paints for your kitchen include the color palette that you want to use, coverage ratings (how much paint will be required per square foot), and whether or not stain resistant technology is necessary. It's alsoimportanttoconsiderthe costofprocessingandshippingbefore makinganypurchases since many professional-grade paints require special handling before they can be used on surfaces like wood or plastic finishes.