Dealing with water stains or smoke stains on your ceiling can be a challenging task, but with the right techniques and products, it can be done effectively. In this article, we'll provide you with some useful tips on how to paint over water stains or smoke stains on your ceiling.
Painting Over Water Stains
If you notice water stains on your ceiling, the first thing to do is to ensure that the source of the leak has been fixed. Once that is done, wait for the stain to dry completely before attempting to paint over it. Painting over a wet stain can cause the paint to flake away.
For the best results, use a high-quality primer like Zinsser B-I-N Primer. This primer is made with shellac and is alcohol-based, which means it will dry and cure quickly, leaving the perfect surface for emulsion. Apply the primer over the stain using a disposable brush, completely covering it. For really stubborn stains, it may take 2 or 3 applications of B-I-N Primer.
Painting Over Smoke Stains
Cleaning the ceiling thoroughly is the first step when dealing with smoke stains. Use sugar soap to clean the ceiling and walls, and then rinse with clean water to neutralize the soap. The goal here is to remove as much of the smoky residue as possible.
For painting over smoke stains, you have two options. The first option is to use Zinsser B-I-N Primer to completely paint the entire ceiling. Once dry, you can paint over it with a water-based emulsion for a clean new look.
The second option is to use another product from Zinsser called Allcoat. Zinsser Allcoat is a solvent-based stain-blocking primer and finish all in one. It may be more expensive than B-I-N, but it saves time and leaves a great finish. Additionally, it has a low odor, unlike B-I-N.
Where to Find Zinsser Paint Products
If you're looking for high-quality paints to use on your ceiling, including Zinsser B-I-N Primer and Zinsser Allcoat, check out PaintingInColour. They offer a wide range of paint products, including primer, emulsion, and stain-blocking paint. Visit their website today to learn more and achieve a beautiful ceiling free of water stains or smoke stains.
Regardless of the type of stain on your ceiling, it is important to take the necessary precautions before painting. This includes wearing protective gear, such as gloves and a mask, to prevent any harmful chemicals from entering your body.
In addition, make sure that the area is well-ventilated by opening windows and doors or using a fan to circulate the air. This will prevent the fumes from building up in the room.
When choosing the type of paint to use, it is important to consider the condition of the ceiling and the severity of the stain. For water stains, a high-quality primer like Zinsser B-I-N Primer is essential, as it will prevent the stain from bleeding through the paint. For smoke stains, Zinsser Allcoat is a great option, as it can provide a beautiful finish and save time.
In conclusion, painting over water stains or smoke stains on your ceiling can be done effectively with the right techniques and products. Don't let stains ruin the appearance of your home; follow these tips and give your ceiling a beautiful new look. Remember to prioritize safety and choose high-quality paint products like Zinsser from PaintingInColour.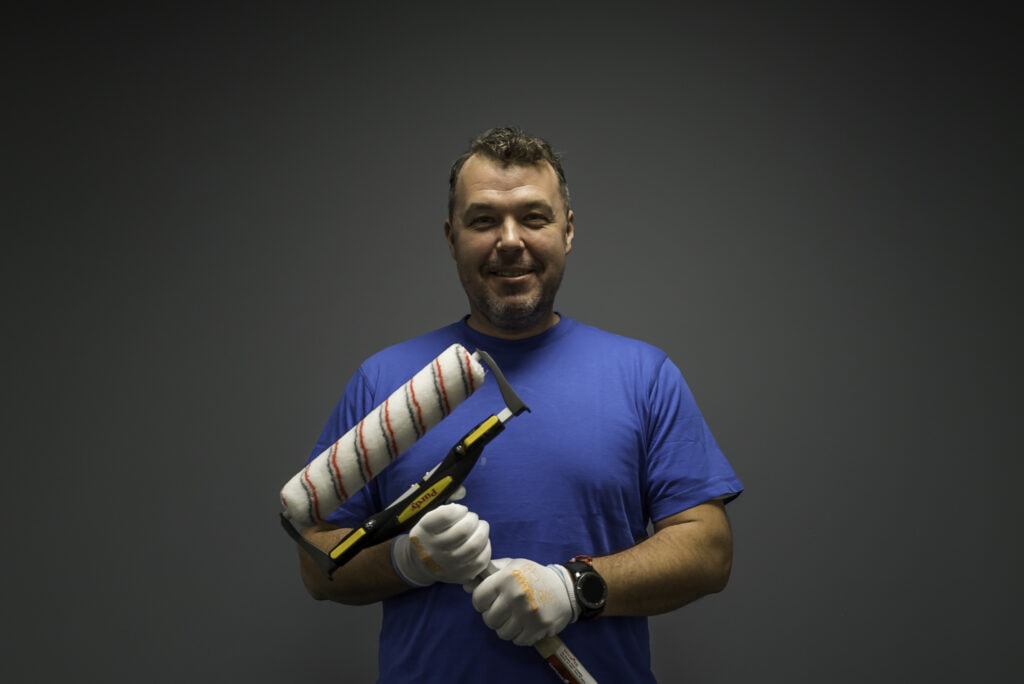 Robert Martinak is a Painting Technology Specialist with over 30 years of experience in the field. He is based in Dublin, Ireland and has extensive knowledge and expertise in the application and management of painting projects.