Painting In Colour For Quality And Trust
If you want a reliable, expert, and creative painter to paint your house, office, apartments, kitchen, etc., then Our company will be the first and last choice for you. It's the service company that values customer relationships over money and is committed to serving with quality assurance.
Robert Martynak has been an insanely skilled painter with over 30 years in this field, the core paint technician behind Company. He has been a successful spraying businessman for over 8 years with a rock-solid reputation in the city of Dublin. Throughout his years of service, both professional and business, he has been keeping a clean record of ZERO failed projects.
Opportunities make a man into a Hero and we have plenty of that. Since its foundation, the company only aimed to give more and receive less so people could afford expert painters in Dublin without tearing their pockets.
So, what is a Painting Specialist-
Becoming a painting technology specialist is not something anyone can become overnight. It requires a ton of practice, dedication, effort, and most importantly, vast knowledge about this stuff. Education is also a part of being a colouring specialist but it's not a mandatory one. There are some universities giving out specialization degrees that help reach the stage of sage in painting technology.
But as we have said, experience and knowledge beat degrees. With all the hard-earned reputation over the course of 30 years, our CEO has been recognized as a true colour specialist and coating enthusiast in the tech world, running the company with all his passion.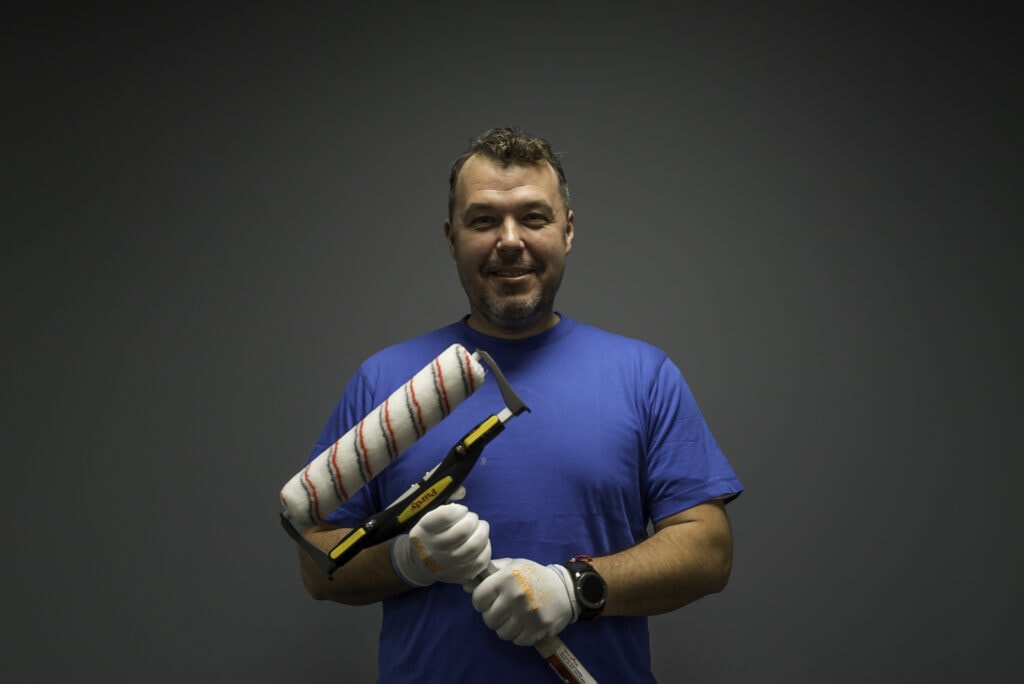 Robert Martynak is a Painting Technology Specialis
Spraying a house is not as simple as spraying the paint over the surface and calling it a job done. There are several aspects of emulsion where you need to look for a different angle to bring out the perfection in finishing.
Often, the surface may not be ready for coating due to water damage or the environment around the area. Different situations require different solutions.
A Painting Technology Specialist is someone who is familiar with the core nature of paints and materials, how they work, and what is the combining result.
An expert can analyze the situation and choose the way to approach the problem so the finishing could be comparable to any undamaged surface. Again, other painters in Dublin need a lead on the job who can guide them to work in a systematic way.
Enough said, let's learn what Robert Martynak is capable of as a paint specialist.
Moisture Damage Technology
Polymer coatings, like those used for waterproofing in the past, are being replaced with new material- water-soluble crystals in paints. These powerful little particles penetrate deep into concrete and provide an even longer-lasting effect than before without any chance of mould growth or flooding inside your building! Construction subcontractors can use a tool like Moisture Meter to check the health of painted concrete members in humid locations and give an accurate update on whether new waterproofing is needed. But, it needs a Colour expert to operate the meter, check the condition, and provide the final verdict if the surface requires special care or not.
With the advancements in technology, paints now have anti-germs, antibacterial, and antifungal properties. These innovative formulas help patients who may get infected more easily because of bacteria or germs that stick on surfaces and infect them just by passing through the area. These paints are best suited for health institutions, labs, hospitals, and houses having conditioned patients. But, applying these paints is no joke. They are way expensive and require a standard coat thickness. Painting Technology specialists can handle the proper distribution of these paints on the surface and only experts like Robert Martynak can perform exponentially better.
Special paints formulated with cross-linking polymers and fine pigments provide a built-in washable property. The building will maintain its fresh look for years without the need to be repainted, as all kinds of stains can easily be washed off or scraped away at a minimal cost. This kind of coat is mostly used by
commercial painter
Dublin where the density of people is much high. Anyway, our lead technician is a specialist in founding and applying washable paints as he knows their properties very well. There are some techniques required to make the washable distemper last longer and stay firm around the year which only an expert could figure out.
Most paints emit bad smells of chemicals. Not only does it make an unpleasant experience for you but also it prevents you from staying inside the room unless the odours are gone. With the new paint technique, it is now possible to manufacture paints with zero odour and have the properties to absorb bad smells from the surroundings to keep the room refreshed.
Color Scheme Previewing Software
The construction paint industry has been using colour scheme previews for a while now, but its recent implementation in the building and contracting business is a great way to visualize what your project will look like before you even start painting! The best part? You can have these 3D models created from simple designs or photos. "This helps both client AND painter experiment with different colours," says our Specialist, who has performed more than 10,000 colouring jobs successfully without a single mess up.
The tools and equipment used by painting professionals are also going through a revolution. Tools such as emulsion, rollers, or sprayers have been perfected to make the work faster with more uniform application than ever before – not just for painters but any professional who uses their abilities in creative visual arts like photography and design! A great example is multipurpose mixers: these small devices can be programmed so they know how much different types of paints should weigh depending on what you're trying to create (whether it's artwork from one colour family versus another). They've become such popular items among pro teams because no matter how fast someone works; mistakes happen when working against gravity without an automatic way weights match up properly. Surprisingly, Robert Martynak and his team of experts at our company are all professionals in using advanced coating brushes. Not only do they work faster but also, they leave not much to clean up after they are done, even though you won't have to clean as they themselves would.
A Loving Painting Service Company
Our company has a good number of expert painters ready to take care of your job. Robert picked up these painters with no decent skills and brought them up with love, care, and dedication. Through the hands of his born expert painters capable of outperforming the competitions. Being a specialist, Robert has deeper insight on this matter which is reflected in his team and added more value to the core workforce. It's always been a fun and relaxing experience for the team.
Paint Subcontractor Scheduling Software
More companies are investing in digital solutions like subcontractor scheduling software to streamline some processes. One of these is planning, which can be done more effectively with a tool that relies on input from managers and employees alike rather than relying mostly upon on-site visits or paper-based methods. Robert Martynak is specialized in this scheduling software and he can cooperate with clients swiftly.
Visions From The Painting Specialist
Robert Martynak offers quality services through his company, that covers a larger ground than others.
People hire commercial painter Dublin from us for better price rates, faster work, and quality finishes.
Robert is committed to not having a single mess in the work and he has been successful at that. He believes that valuing customers over profit works smoothing the relationship further and nourishes future possibilities.
Robert is a colour enthusiast and believes that each house in Dublin should be painted with the best paints, quality materials, and capable hands. His mission is to provide people with a quality service that helps transform their property into what they would be dreaming of.
Robert puts more effort into prep work so the outcome becomes transparent to the customers. Every project is to be done in a timely and there won't be any communication gaps. Efficiency is the key part of the services provided by the expert painters Dublin.
As the head of a customer-focused company, Robert Martynak is a dedicated specialist that won't charge extraordinary from the clients. Everything project will run through his expert opinion and open cost estimation, leaving no backdoor to the contract. Trust is the biggest profit earned by our company through their continuous efforts.
Painting Technology Specialist Code Of Behavior-
Utmost respect to every human being
Taking care of customers with proper business conduct
Listing to the suggestions, questions, and intent in order to understand and acknowledge the speakers' mind
Always punctual, responsible, and well-mannered
Highlighting customers' perspectives over expert opinion to ensure satisfaction in the final result
Only saying what we can do, nothing exaggerated
Open about stating the obvious, not shy to prevent odd events
Always staying above the mark
Never hiding cause and benefits
Mutual communication for smooth output
Loyal and humble
Does what is asked for but more carefully and passionately
Hire Professional Painting Technology Specialist
We have been in shape thanks to the efforts of Robert Martynak, the founder and painting technology specialist. If you want a job finish that will leave you with a smile from the start to the end, then hire us. They are the best around the neighbourhood and you won't get anything more perfect than what they offer.