Do You Need Interior Painting Service In Dublin?
Building indoors is the most important part of a building. It's the only space where people can enjoy their time within the home environment. A good design can change people's moods quickly in a positive way. Refreshing inner colour can play a long-lasting effect on your good health. If the interior painter is better, you will be enjoying a swift life while smiling happily.
As the interior painting is this important, it only makes sense that you choose the most experienced person to handle the job. Our company provides the best quality painting services in Dublin. We are fast, reliable, & experts at our job for providing clean, comfortable, & innovative service for you.
Stressless Interior Painting in Dublin
We know interior painting is a challenging job that becomes a headache for you. There are so many things in your building interior paint that you could lose the counts several times already. It's painful and we know that.
That's why the company brings experts to inspect your home interior through & through without leaving a single item. We do the harsh job so that you won't have to stress over that.
Have trust, we will take care of your house well. After we finish the job, our team leader will hand over everything in your interior wall in one piece. Our commitments are our key to business. We are popular due to our quality services.
We Are Professionals
Our Company is made by a team of highly trained painters in Dublin. We are professional, capable of handling all kinds of interiors, & provide the best clean-up service in Dublin.
We work from our experiences and we know how to respect our clients. That's why we do the spraying job diligently and you can enjoy a fresh new look of your indoors. Also, we clean up after our job, leaving not a single nail behind. Your job is our responsibility.
Safety Is Our Number One Priority
Indoor spraying jobs involve rough works which may cause bruises or harm sometimes. We don't want our clients to see us mess up at work. Also, we intend to protect our team from anything odd during work. That's why we've taken safety measures to prevent any unnecessary events-
Well-equipped team with safety gears
Masks & filters for the painters
Proper compensation for unexpected situations
OSHA complaint
Highly-trained supervisor to take care of the team
Properly stored tools & materials
We take pride in our services & safety measures at work. Our team of painters in Dublin is the best as well as trained properly. We guarantee a clean job with no one hurt from either side. Safety is our priority.
Dust-free Interior Painting in Dublin With The Best Equipment
Good coating involves a lot of sanding of the wall surfaces. Normally, it will create a heap load of dust & fumes in your indoors, leaving dust particles in every corner of the house as well as breathing problems for the people inside.
Our Company brings the most advanced tools to work that can perform dustless sanding jobs with ease. Most of our equipment is expensive and top-quality from the market. We have dust remover vacs for all the tools we generally use for indoor coating.
For the records, we clean all scratches, cracks, nail marks, & dentures on your indoor walls and finish them with a smooth paint layer. No room for imperfections.
Best Paint For Your Breathtaking Interior
Our works with the best painters as well as the best paints in Dublin. While cheap paints have a poor finishing quality, they don't last long. You can see peeling & bubbling within a week or two after coating with the two-bit paints.
But we don't do that in Dublin. We mostly use Fleetwood and Johnstone's paints that are brought from their local vendor. These paints cost a bit more but have the quality to significantly improve your interior visuals. Plus, they won't be fading soon and some can last more than 5 years. Awesome, right?
Also, we avoid paints with toxic substances for our & clients safety. As natural pigments produce better colour contrast than synthetic colours, we are prone to use them in all of our paint colour works. So, no risk of getting infected by the paints.
Affordable Interior Painting Dublin Service
Most paint jobs cost a lot. Occasionally, they may cost double the estimated price if there are damages to the paint surface of your interior. This proves complications for the people who have to endure this torment.
The good news is, our company is the most budget-friendly spraying service in the vicinity of Dublin. We adore our customers more than any monetary profits. Our expert consulates will discuss with you to minimize the total cost for renovation and ensure maximum efficiency.
So, it's a win-win deal for you. Plus, we have no hidden charges or whatever the reason for your discomfort. We don't like to extort money from the clients. We love building trust.
Our high-quality interior painting services include:
Fresh new look with appropriate painting designs
All surface indoor spraying.
Dustless sanding, polishing, & stain removal
Interior wall repairs including nail marks, dentures, loss of plasters, etc.
Hand-painted kitchens, drawing room at client's wish
Super-fine finish leaving zero paint colour drops on the floor
Our Expertise
Our company serve Dublin based interior painting service that includes offices, homes, schools, and other residential and commercial painting buildings. We develop ideas and designs just according to the theme while adding a touch of grace and elegance. The final look will exceed your expectations every single time and that is our promise!
Additionally, we are punctual and like to maintain proper business time from the start till the end of our service. Our team members don't slack off at work and they have highly-trained physic to work constantly during the working hours.
We have a broad worker network that can achieve any kind of work challenge without any trouble. We have trained manpower in different
areas of services
where we can supply plasterers, electricians, plumbers, carpenters, etc. We only move the other teams upon necessary as per the job.
There is nothing more satisfying than a beautifully decorated home. Whether you want to transform your flat into the perfect pied-a-terre, or are looking for ways to make your office more welcoming and comfortable, our services in Dublin will help provide an elegant finish that's bound to impress you and anyone who sets foot in it.
Lay your eyes on the completed job done by our expert painters in Dublin. We take the credit for displaying these walls on our page while gaining the trust of our customers. Your satisfaction is our profit.
Our interior paintings services include:
For homes, offices, and schools.
For ceilings, walls, and other surfaces.
Interior design consulting to help you make the most of your space.
Spraying exterior house paint service as well as commercial buildings such as shopping centres, restaurants, or hotels. We are dedicated to providing high-quality work at affordable prices with a guarantee that it will last!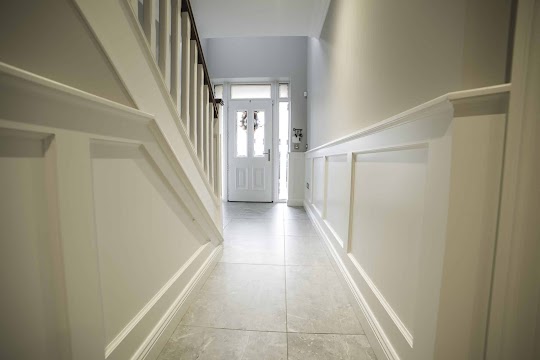 Prepare To Receive Our Service In Dublin
We are a professional service provider that requires less preparation on the client's side. While you don't have to prepare anything big, just some small things will suffice-
Prepare enough room for our tools trailer to park on your foothold.
Provide access to the doors & chambers inside your house that fell under the job.
Keep away from the work area as much as possible
Turn off heaters, geysers, & other electronics.
That's all you can do before we start the prep. Also, you can stay home while we are doing the job.
How We Start Our Job
Our professional painters in Dublin will come prepared for the service. You don't need to do anything and let us handle everything. Let's learn what we will be doing at the job site-
Cover everything that isn't a part of the work with thick plastic sheets and non-adhesive tapes.
Clean the total part properly before starting the paint job as well as dry the surface before applying the former.
Remove any unwanted part from the project asked by the client as a part of the prep.
We only apply paints if all the paintable surfaces are cleaned, cleared, and dry. Also, we don't use synthetics to supplement the amount of paint needed for the job.
Precautions
We are well known for our high-quality services in Dublin. Although we maintain a strict safety protocol for every job we undertake, some precautions provide a better working environment for us & the client.
Please don't stray near the surfaces after the paintbrush is applied.
Don't inhale paints, please ask for safety masks before entering the spray room.
Remove any delicate items, glass items, expensive decor, & expensive items from the interior before we start the paintwork.
Don't let your children near the ceiling spraying tools to prevent any unwanted accidents.
Call Us to Get Your 100% Free Quote
We are ready to sit down with our clients and discuss their projects. We listen to your proposals, suggest possible alternatives, and carry out the perfect plan to establish your dream project. Our appointments are always open for you. Contact us through email or call us to get your free quote. 
Our consultations are free of cost. We aim to fulfil your needs to the best of our capabilities. Customer satisfaction is our number 1 priority. We guarantee the safe execution of your project and always try to provide you with the best services.
For more information about our interior painting services please contact us today at 087 351 9291 or email info@paintingincolour.ie
Have you ever had any doubts about whether or not to paint an interior? How did you resolve that issue?
When it comes to painting an interior, there are a few things that you should keep in mind. Firstly, make sure that the room is big enough for your canvas! Secondly, think about what colors you want to use and whether or not they will work together harmoniously. And lastly, be prepared to spend time executing the project perfectly – no detail shall go unimportant!
What are some things you should consider before hiring an interior painting service?
There are a few important things you should consider before hiring an interior painting service. First, make sure to have a clear vision of the look and feel that you want your home to have. This will help the painter better understand what colors, textures, and patterns would work best with your lifestyle and personality.
Second, be prepared to provide detailed directions for everything from where furniture should be positioned to how long each room should take to complete. And finally, be mindful of any potential costs associated with the project – including preparation time spent consultations beforehand as well asany additional supplies or adjustments that might need to be made on-site during painting. With these tips in mind, you're readyto start planningyour dream home's beautiful new paint job!
How much does it cost to repaint an interior?
It can cost anywhere from a few hundred dollars to tens of thousand of dollars, depending on the size and scope of the project. When calculating your budget, be sure to factor in materials, labor costs, taxes, and other fees that may need to be covered.
When hiring a contractor or painting service, always ask for references and ensure that you are getting an honest opinion about their work. It's also important to make sure that the company has all the necessary licensing and insurance mandates in place so that any accidents do not result in serious injury or loss.
Finally, remember to schedule your appointment ahead of time so that everything goes as planned!
What is included in interior painting?
There are a number of different components that are typically included when interior painting, such as wallpaper removal, baseboards and moulding installation, caulking and sealing around windows and doors, and more. Depending on the severity of the paint job, additional services may also be required like staining or treatment.
Interior painting is a complex process that requires attention to detail in order to achieve the desired results. Make sure to hire an experienced contractor who will take care of everything from start to finish so you can focus on your other priorities free from hassle.
Which paints are best for interiors?
Frescoes and paintings were traditionally made using oil paints, but in recent years acrylics have become more popular. They are easy to work with and because they are less flammable, they can be used in areas where traditional oils may not be appropriate. Acrylics also exhibit a much brighter color palette than oil paints which makes them perfect for interiors.
In addition to the colors that can be obtained from acrylic paint, there is also matte varnish available that creates a "hard" finish that hides any imperfections or scratches on the surface of the painting. This finishes off the look of an interior well and helps to create a soothing atmosphere.
Ultimately, it is important to choose a type of paint according to your specific needs and preferences. Then use these paints as guides when ordering supplies online or at your local art supply store.
What are the steps for interior painting?
Here are the steps for painting your interior walls:
1. Remove all furniture and any items that will be in the way, such as pictures or mirrors. This will make it easier to cover the wall with a uniform color.
2. Measure and mark out where you want your paint lines to be using painter's tape or painters' chalk). Make sure you extend these areas at least 1 foot beyond each edge of your measured area so that there is plenty of room for trimming later on (trim boards should always overlap by at least 2 inches). A level surface is key when working with paints, so use a straightedge (a T-bar clamp works well) to ensure accuracy while laying down the basecoat foundation color.
3. Choose one of Core House Painting Company's 18 unique home exterior colors from our online palette and carefully apply it according to package directions, paying close attention to any crosshatching instructions provided within the can/packet description).
Do I have to wash walls before painting?
This is a common question, and the answer depends on the paint that you are using. Nearly all paints contain some level of waxes or sealers, which will needs to be washed off before painting. For water-based paints, simply rinsing with plain cold water should do the trick. Oil-based paints may require a more thorough cleaning process in order to avoid staining your walls or furniture. In any case, it's always best to test a small area first to ensure there are no negative effects from the paint before proceeding with full coverage.
Do you paint ceiling or walls first?
While there are many factors that you will need to consider before beginning any painting project, one of the most important is priming. This generally involves applying a sealant or coat to the surface so that paint has an easier time stick and doesn't peel off. When choosing a primer, be sure to choose one with a high sheen for better coverage.
Once you have primed your walls or ceiling, it's time to start painter! Choose a color scheme and begin by spraying small areas at a time with your chosen paint until you achieve desired effect. Be patient and allow the paint to dry completely before painting over it again.