Are your kitchen cabinets looking outdated and in need of a facelift? Painting them is a cost-effective way to give them a fresh, modern look. In this guide, we'll show you how to paint kitchen cabinets properly, step-by-step.
The first step is to remove all the doors, drawers, knobs, handles, and hinges. Number them so you know where they belong. Then, clean and remove grease from the cabinets using a product like Krud Kutter. Sand the surface with 240-grade sandpaper to give it a key and then apply a thin layer of Zinsser B-I-N Primer with a mohair rad roller and paint brush. Fill any holes with a good quality wood filler and sand everything down until it's smooth. Dust and wipe with a tack cloth, then apply one coat of Coverstain primer.
Once the primer has cured, it's time to apply the top coat. We recommend using a water-based eggshell for the finish. Apply two coats of eggshell for best results. Fill any gaps with caulk and wipe off any excess with a damp cloth. Once the caulking is done and given a couple of hours to cure, you can apply your final coat.
Finally, once the doors have fully dried, reattach the hinges, handles, and doors themselves. The transformation is complete, and you have a fresh, modern kitchen at a fraction of the cost of replacing the cabinets!
To paint kitchen cabinets properly, you will need tools such as a screw gun/screwdriver, rad roller with mohair sleeves, paint tray or scuttle, and paint brushes. Materials required for painting kitchen cabinets include 180-240 grade sandpaper, B-I-N Primer, tack clothes, water-based eggshell, caulk, and 2-pack filler.
If you're not confident in your painting abilities or simply want a professional touch, consider contacting a professional painter or decorator. And don't forget to visit PaintingInColour for high-quality paint products that can help make your painting project a success!
Once you have filled in any gaps with caulk, make sure to wipe off any excess caulk with a damp cloth. Once the caulking has cured for a few hours, you can apply your final coat of paint.
Once the doors have completely dried, you can replace the hinges, handles, and the doors themselves. That's it! With just a little bit of effort, you can transform the look of your kitchen cabinets and give them a fresh new look.
Here's a list of tools and materials you'll need for painting your kitchen cabinets:
Tools:
Screw gun/screwdriver

Rad roller with mohair sleeves

Paint tray or scuttle

Paint brushes (synthetic brushes are best for water-based paints)

Materials:

180-240 grade sandpaper

B-I-N Primer

Box of tack cloths

Water-based eggshell paint

Caulk

2-pack filler
That's all you need to know about how to paint kitchen cabinets properly! If you'd like to have your kitchen cabinets painted professionally, please get in touch with us at PaintinginColour.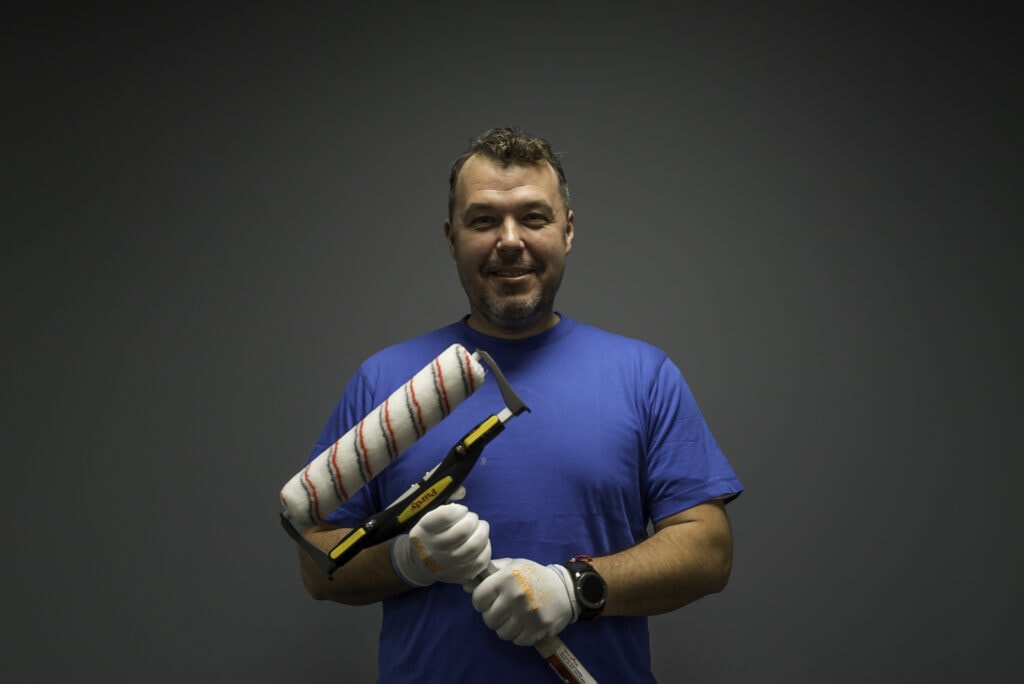 Robert Martynak is a Painting Technology Specialist with over 30 years of experience in the field. He is based in Dublin, Ireland and has extensive knowledge and expertise in the application and management of painting projects.