Have you just finished painting your apartment, or just your room or your kitchen, as you have probably not done a painting job all by yourself before? Or have you just had a little experience with it? Has it been a very challenging experience for you to do this?
You have put your time, effort, and sweat into doing this difficult job to the best, then step back to admire yourself for your excellent work and suddenly notice that there remain drips, brush marks, and stains. How disappointing! What will you do when you face a painting mistake?
Not to worry. Everyone makes mistakes; even the best painters sometimes experience these mistakes during and after painting. So you don't have to chin down about this; instead, you should get started to find the solution to it. Of course, it would be best if you did the right thing to get rid of such mistakes.
To get rid of the mistake, you may do something like:
Always hang a picture or move the furniture to cover them.
Please take the necessary measures and step forward to fix them.
Think about the above solutions for this issue. If you follow the first way, then I think it is the wrong way, because your problem remains of doing this and someday somehow it will be visible to others. But, on the other hand, if you follow the second way, then great! You have chosen the correct way!
This article will guide you on how to fix some most common mistakes people make when spraying their homes. However, you will find this article very useful whether the colouring mistakes you have done before or not, you might encounter in the future.
Keep reading this article to learn how to fix some of the most common painting mistakes. Here are five common paint problems you can fix yourself.
List of five common spray problems:
How to Remove Drips
How to Get Rid of Brush Marks
How to Remove a Stain on Your Painted Wall
What to Do with Flaking Paint
How to Get Rid of Mildew on Painted Walls
Let's dive deep!
1. How to Remove Drips from Paint
If you want to avoid drips in the first place, make sure that you don't overload your paintbrush during painting. But if you finish up with drips, follow the steps:
With a scraper, carefully scrape the colourant drips: From your wall, remove the drip of colourant. Using a razor-blade dye scraper, you can slice it off, or by oscillating hand sander with 180-grit sandpaper, or sand it off using a sanding block. Sand over the affected area using a sanding block and 220-grit sandpaper. This will smooth the area and prepare it for dye.
Sand the area until it's smooth: Finish sanding with fine-grit sandpaper between 150 and 180 grit. You can use sanding blocks to finish sanding. You have to thoroughly sand the surface of your project to leave a very smooth finish. It is not recommended you sand with loose sandpaper, especially on softwoods.
Repaint the area: This process has five steps. They are given below-
Step 1: Clean the surface
Clean the area with a sponge, mild detergent, and water before you make repairs. On the wall's surface, dirt, grime, and dust can build up, affecting pigment adhesion when you begin touching it up. Wipe the work area lightly with the soapy sponge and dry it with a clean towel before proceeding.
Step 2: Make repairs
Small holes (nail holes, etc), dents, and deeper scratches can be filled in with spackling compounds. Use a piece of fine-grit sandpaper and lightly smooth the surface around the area to be repaired. This will help remove any raised portions or fragments of the wall.
Next, open a container of the pre-mixed spackling compound and scoop up a small amount of it with the edge of a putty knife. Use enough to fill in the hole or crack. Put the compound-covered blade of the putty knife at a 45-degree angle to the wall and spread the compound over the hole or crack in a smooth, feathering motion until the hole is completely filled in. Scrape away extra compound from the wall. Wipe any remaining excess with a damp cloth before it sets. It will take time.
Step 3: Prime
Now, prime the repaired areas for optimal dye adhesion and color blending. The touched-up spot will stand out from the rest of the painted surface without a primer. Choose a high-quality interior latex primer, i.e., True Value EasyCare Ultra Premium Interior Primer. Use a small or medium-sized paintbrush to apply a layer of primer over the spot.
Step 4: Use the same colourant
It isn't easy to match the color if the touch-up spray is not from the same can. So, always store leftover emulsion to use for touch-ups when needed. Then, apply the same dye used to colour the wall and try to match the same brand, color, and finish.
Step 5: Check touch-ups after drying
Wait for the paint to dry completely for the recommended time. After that, check to see how visible the touch-ups are by looking at the wall at an angle. Then, check its appearance in both natural and artificial light at different times of the day.
Well done! You've successfully touched up your walls without repainting.
2. How to Get Rid of Brush Marks
It is very annoying to see brush marks after putting much effort and sweat into your spraying. Spotting brush marks is much easier on natural wood finishes. Using unprofessional spraying techniques or overloading the brush with dye makes to see brush marks on your walls. You can easily correct this mistake and get rid of brush marks following these steps:
Sand the area with brush marks using a machine sander. Be careful that it doesn't affect other areas.
Repaint the area after sanding the area.
3. How to Remove a Stain on Your Painted Wall
Stains may show through your varnish job if you don't properly prime before varnishing. You will not be able to ignore it when you notice the stain. Fortunately, you can take care of the problem easily by these steps:
Clean the area thoroughly using TSP.
Leave it to dry completely.
Apply an oil-based undercoat over the stain.
Repaint the area when the undercoat is dry.
4. What to Do with Flaking Paint
Flaking paint happens over time when moisture finds its way under your painted surface. But when you apply it to a damp surface, flaking spray can occur as well. To fix this problem, follow these steps:
Use a wire brush or a scraper to remove the flaking varnish.
Sand the area. Then start with a coarse abrasive, and finish the sanding with a fine abrasive.
Smoothen the edges between the painted and scraped areas by working hard, or the new coat of latex stain will highlight those lines.
Prime the area.
Repaint.
5. How to Get Rid of Mildew on Painted Walls
Mildew often can be found in bathrooms and kitchens because moisture tends to be a constant occurrence in those rooms. You can take care of the problem following these problems:
Put on protective clothing, gloves, and eye-wears, use TSP, bleach, water, and a stiff brush to wash the affected area.
Wash from bottom to top in order not to stain the surface.
Allow the wall to dry for about 48 hours.
Prime with a primer that contains mildew protection.
Use two coats of varnish to repaint the area.
Avoid Common Paint Problems in the First Place
Many of these Common spraying problems can be avoided by properly preparing the surfaces to be painted. Moreover, use high-quality primer and emulsion. You have to be prepared- if you let parts of the wall dry before completing the wall will lead to uneven appearances and lap bands. Make sure to complete finishing the wall, then begin painting.
Conclusion:
We have enlisted five common paint problems you might face and discussed the solution to them for you. I hope you can easily fix these problems yourself without others' help.
Thank you for keeping in touch and reading this article. Have a nice day!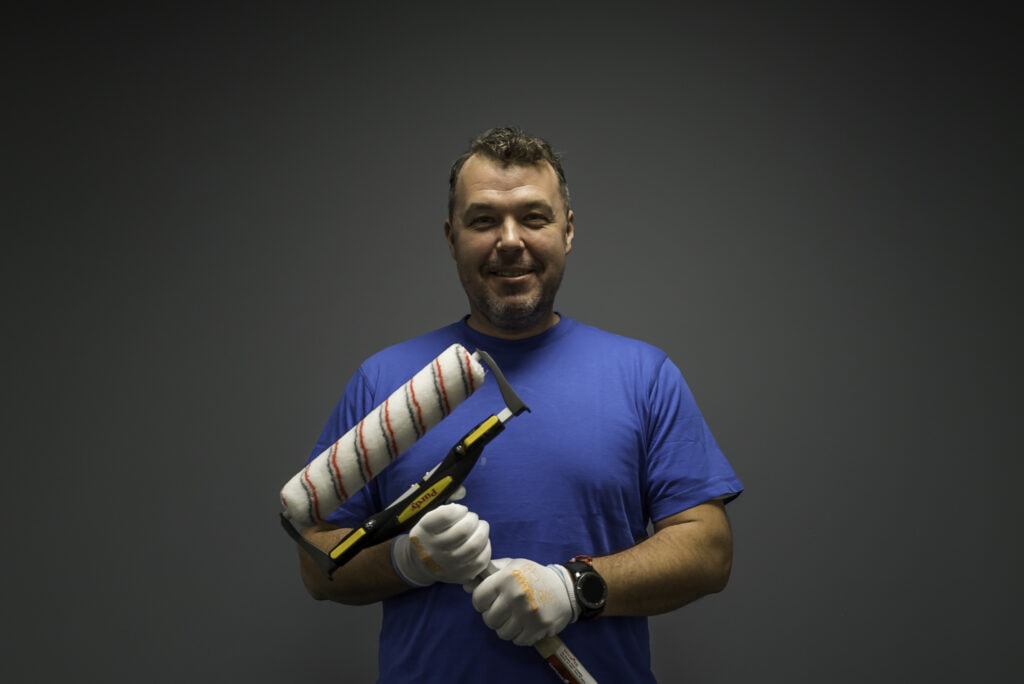 Robert Martinak is a Painting Technology Specialist with over 30 years of experience in the field. He is based in Dublin, Ireland and has extensive knowledge and expertise in the application and management of painting projects.