When talking about eggshell paint, many think of it as a kind of paint material while it's not. It's actually a paint sheen that looks a little lighter than matte color.
While most paints are either flat or too glossy, the eggshell paint falls in between the two. It's at a level where the paint reflects less light but doesn't look totally flat.
If we are talking about your interior, eggshell paint might beat everything you images so far. As for the reason behind our solid constitution, let's find out further in the article.
What Is Eggshell Paint? Why Is It Worth It?
The exact definition of the eggshell paint is actually the name it carries. The paint looks very similar to the outer shell of an egg. The color looks like a slight soft velvet texture with tiny grains.
Compared to flat paints, eggshell paint has a lighter soft gloss on the surface. It looks lighter than matte and reflects a bare minimum light off the wall. Even the light reflection is blurred just like a real eggshell.
Eggshell paints look beautiful on the interior walls of your kitchen, bedroom, drawing room, etc. Although satin paints have a greater sheen over these places, eggshell paint looks more elegant and gives off the vibe of majesty.
The eggshell paint is worth very much. It's not your regular flat finish where all things look plain and dull. But, it's a soft and mushy finish that brings out the real charm of your house.
There's no saying without the benefits. So, let's know what the eggshell paint is best for-
Hides Flaws On The Walls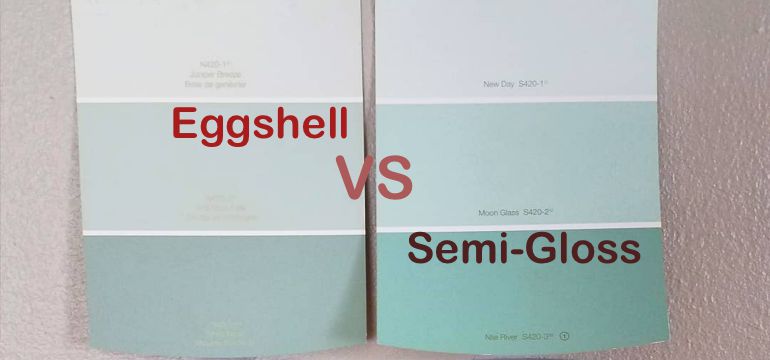 If the paint is more glossy, it will only point out the flaws on the walls, revealing more embarrassing marks than the news reporters. Only a deep shade of color can conceal the flaws perfectly. Fortunately, the eggshell paint falls in the latter category.
It can hide all the bumps and pits on your walls perfectly so that no one can catch them without looking too close. This way your walls shine for a longer time.
Easy Painting With Eggshell Paints
Overlapping is a common problem that happens during painting. The basics of painting require at least two coats of paint on the surface or even more based on the situation. Usually, the overlapping layers are ignorable most of the time. But for glossy paint, not so much.
The higher the paint gloss, the more flaws come to light. Mostly because the overlapping layers show clearly and it looks like a mess. But with eggshell paint, the whole embarrassing situation never occurs.
Because the eggshell paint has the characteristics of flat paint, the underlying layers of paint coating easily blend together. This leaves no partial marks on the surface. As a result, you can take breaks during the painting as well as leave to paint to dry a bit before applying a new coat.
Easy To Clean
Talking about the stains on your walls on the interior design, some paints quickly catch dirt and other stains that won't come off. Matte paint absorbs more stain than any other. 
The good thing is, eggshell paint is glossy enough to prevent the walls from catching spots. The paint can easily brush off the dirt and doesn't soak liquids so much. Also, it is effective against burnishing as it hides faded parts with the light sheen.
Durability Of Paint
Although eggshell paint is less durable than satin, it's tougher than flat or matte paints. Generally, the glossier the paint, the more durability it possesses. But still, eggshell paint can last longer than you imagined through the years of wear and tear.
Difference Between Close Relatives Of Eggshell Paint
Because of how identical they are, people often get confused by the Satin and Eggshell paints. As it is hard to tell, let's find out how to tell them apart with naked eyes.
Difference In Sheen
While eggshell paint has a higher sheen than matte, it's actually less than satin. The difference is only a slight that is barely noticeable without placing them side by side. Only then satin colour appears more glossy than eggshell.
In order to measure the sheen level between the two paints, we could use the PVC standards which stands for Pigment Volume Concentration. The value is inversely proportional to the sheen of the paint. A lower value means more gloss.
Based on these facts, both paints have a small difference in sheen level. The value for satin paint goes between 30-35% while the eggshell paint goes about 35-40%. No reason people get it hard differentiating them.
Difference In Cost
One of the core reasons that differ the cost of paint is the sheen. Glossier paints always cost more. That's why it's normal for satin paint to have a higher price than eggshell paint.
Also, glossier paints contain more solid binders than flat paints. You can pick two different cans of paint to understand their weights. But the price difference between satin and eggshell paints is only up to 10%. Still, it saves a lot with eggshell paints.
Use Eggshell Paint For Your Interior Design
As we have seen so far, eggshell paint has a higher acceptance in the home interior than others. These days, expert painters tend to pick eggshell paint for most home painting projects. Note that this type of paint needs expert hands to preserve its durability for a longer time.
Still, the paint looks awesome when applied to-
Bedrooms

Living rooms

Dining rooms

Drawing rooms
The paint suits almost every area of your interior. As eggshell paint has a low lustre, it can easily attract your guests into looking at the walls, touching the paint, and praising how beautiful it looks.
But keep in mind that eggshell paint is a bit fragile against hard bruises or messy areas. That's why it's best to not apply this paint in your kitchen and bathroom. Also, it's not recommended to use this paint in higher traffic areas on your home or building.
Not only that but you can also use eggshell paint on your exterior. Is it okay? Yes, absolutely. Because of the nature of this paint, it can easily drive off dust particles, moss, and bad weather. Eggshell paint is washable which makes it easier for cleaning without damaging the paint.
That's all you need to know about eggshell paints. Whenever trying to paint your home, the eggshell paint is enough to set your mood inside your home interior, it best suits the walls where the sun goes high all day.