Finding the right paint can be a lot like choosing furniture or décor: you want something that fits your style and complements your space, while also being long-lasting and functional. Whether it's interior or exterior paint, there are countless exciting ways to breathe new life into your home.
From neutrals to bold colour palettes, you're sure to find a look that suits your style perfectly. With these trends in mind, we've created our list of the most popular interior and exterior painting trends for 2023 (and beyond!)
Interior Painting Trends
Your blank interior walls are the canvas you can use to express yourself or draw attention to a focal point. With the latest interior painting trends, we can't help but feel that our homes have never looked better. As we are gearing towards 2023, we have seen an uptick in the popularity of more natural shades and muted tones. Green will be the real showstopper this year, while natural materials used to create a sense of warmth and cosiness will give your home the perfect finishing touch.
Also, muted tones and colours will create an atmosphere of serenity and peace in your home. Soft furnishings like couches, chairs, beds, curtains, and curtains also get a makeover to match the walls or flooring perfectly. That said, there is an abundance of colours to choose from, even if you prefer bolder, feature walls.
1. Dramatic Inky Blues
There's a reason why blue is one of the most popular colours in interior design – It adds sophistication, elegance and class to any space, without being overpowering. Whether it's used in a modern living room or a cosy bedroom, blue makes your home look sophisticated and stylish.
Originally inspired by navy blue, this gentle but sticking colour has since become so trendy because of its versatility. You can use it in practical ways like updating your bathroom or bedroom while also using it to add a touch of glamour to your living space. Navy blue also blends seamlessly with any other neutral tone for that dash of colour.
2. Primary Pairings
Colour is so important when decorating your home. It can help bring life to a room and make it feel more warm and welcoming. In fact, selecting the perfect colour scheme for your home can make all the difference in how your house looks and feels.
One of our favourite trends for 2023 is pairing primary colours with neutrals to create a modern look that's both chic and comfortable. Pairing earthy browns with burgundy or charcoal tones with white create an easygoing atmosphere that complements most décor styles.
Primary pairings also help tie together the entire room with just a few complementary colours. Don't be afraid to experiment, but remember, bright colours should only be used sparingly as they can overpower the natural beauty of your home. We also suggest that you try your hand at "paint washing" or "wall glazing" instead of solid brush strokes to add more dimension to your room.
3. Rich Neutrals
By the end of 2022, we were seeing a surge in the popularity of neutrals everywhere. From home décor to ceiling paint, it seems like everyone is jumping on the wagon! For a crisp and modern look, these palettes are all you need. They're perfect for adding some flare to your space while also being cost-efficient and practical. There are so many shades to choose from that it's hard not to find one that will work best for you. From light blues and whites to blacks and greys, there's definitely something for everyone in this range of colours!
4. Mixing Matt and Gloss
Mixing matt and gloss finishes is a trend that's set to continue over the next few years – so why not get ahead of the game by learning how to do it yourself? Mixing matt and gloss finishes is a way to bring some life into your home, making it look stylish and modern. Plus, it provides an impactful look that will stand out from other homes.
To get the best results, experiment with different types of glosses – you'll be surprised at the range of possibilities available – right here at Painting in Colour. Remember to always test a small area first before applying it to the whole room – just in case!
5. Tri-Colour Room
When it comes to interior painting, you can never go wrong with a tri-coloured room. This is another style that is sure to be popular for the foreseeable future. Not only will your space look vibrant and eye-catching, but it will also be more creative and fun. Pastel colours are another great option that not only looks beautiful but is also calming and relaxing.
Hues of black and white are popular for a more modern, contemporary feel. Be wary of bright and popping colours if you are going for the tri-colour option – it can easily be overwhelming.
6. Shades of Green
Finally, we get to the crowning jewel – the colour of the year for 2023. 50 shades of green?
Well, we're not even exaggerating. With all these shades to choose from, you can now add a whole new dimension to your projects. Green is at the forefront because it's perfect for adding life and vibrancy to any space. Why use just one shade when you can experiment?
From bottle green to olive, green has a calming effect, and it is an easy hue to incorporate into any living area, be it the kitchen or bedroom.
Exterior Painting Trends
A coat of new paint is a key component of your house's beauty and functionality. You need to make sure that the paint job you choose matches the look and feel of your home, so you can be confident that it does its job well. It should also feel durable enough to last for many years without showing wear and tear.
Whether you're looking for colour or texture, silicones and acrylics are increasingly popular choices when it comes to outdoor paint. Not only do they offer long-lasting protection against sun damage and weathering, but they also give your home a beautiful finish that will add value and charm.
Painting the outside of your home can make a big difference in how it looks and feels. But if you're not sure where to start, this list of the best exterior painting trends of 2023 has all you need to know. From colour and texture to new types of coatings, we have you covered.
1. Rich Charcoal Grey
As a homeowner, don't let your building's exterior fall behind when it comes to modern trends. Try out rich charcoal grey for a chic, sophisticated look that will make any building stand out from the crowd.
Pairing the rich, grey with other colours and designs will give you the chance to create your own unique look. Furthermore, this paint works well in all weather conditions, come rain or shine.
2. Light Grey
You've probably noticed a lot of homes choosing this shade of grey for the 2022/2023 season. Light grey has been becoming a popular choice since it is both modern and classic at the same time.
Thanks to its versatility, light grey can be used in almost any style of home. It's also easy on the eyes because it lets some sunlight through while keeping the surface feeling spacious and bright.
It is perfect to create either a traditional or modern look, and can easily blend in with other, brighter colours for a more complex design for added depth.
3. Taupe & Beige
Whether you're looking to spruce up your home or simply want to add a splash of colour, taupe and beige are a refreshing change that's sure to make your space look great!
The palettes are available in multiple finishes for both interior and exterior applications and go great with almost any colour scheme. They both look fresh and crisp, with just that extra touch of luxury.
4. Blue-Grey Hues
Finally, we get to the killer combination of blue greys – the two go hand in hand, and 2023 will be no exception.
Blue-grey palettes are set to have a major impact on home décor this year. Not only do these colours look elegant and sophisticated on your walls and roofs, but they're also believed to have calming effects that will help you relax after a stressful day.
If you're looking for something that's soft, elegant, and sophisticated all at once, then this is the perfect colour combo for you.
Painting in Colour Has You Covered in 2023
If you want to update the appearance of your home, we've analyzed the latest trends in interior and exterior painting in 2023 and compiled a list of must-know information on how to make the most out of this project. From an emphasis on natural materials and colours to a focus on sustainability, these trends will have a long-lasting effect on how we decorate our homes in years to come.
From soft hues that evoke freshness and natural warmth, to playful patterns and sophisticated textures, we at Painting in Colour can come to the rescue. We offer premium painting products, both indoors and outdoors, along with painting and design services that will bring your vision to life.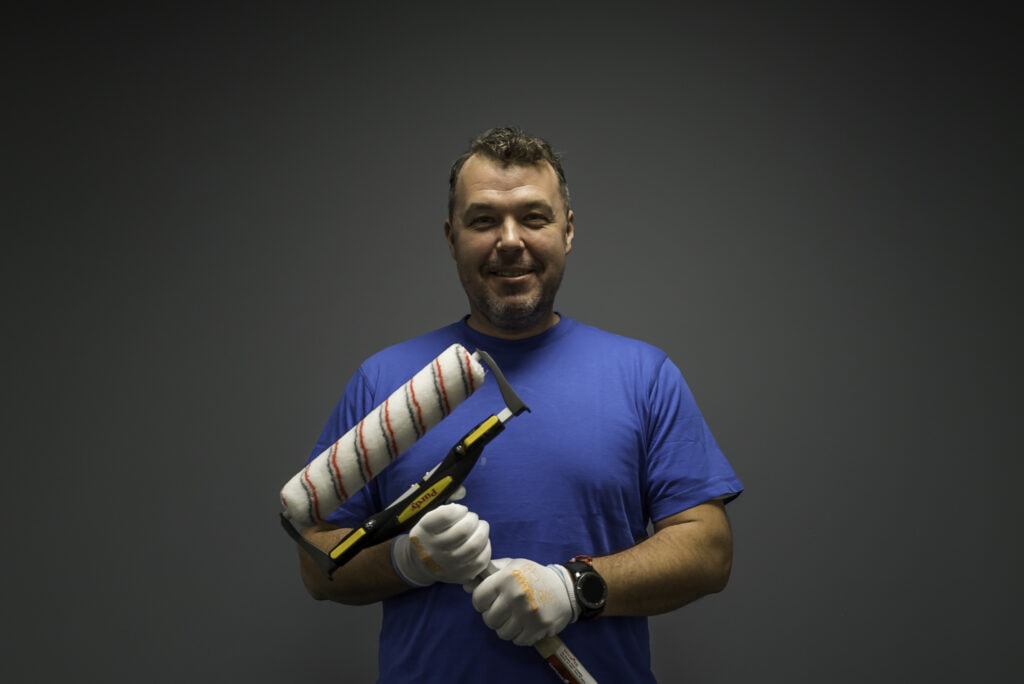 Robert Martinak is a Painting Technology Specialist with over 30 years of experience in the field. He is based in Dublin, Ireland and has extensive knowledge and expertise in the application and management of painting projects.