Choosing the right paint for kitchen cabinets seems an easy job yet so many people get stuck on this part. Instead of revamping the whole kitchen, adding new colours to the old walls seems a better choice. But even that needs special attention from the best painters in Dublin to make sure everything looks perfect.
No matter which household you belong to, the cookhouse is one of the busiest parts of the house. The forever abused kitchen cabinet loses its edge after years of usage and bruises. It easily gets messy enough to become annoying to clean.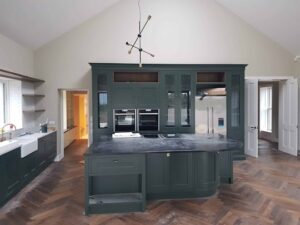 That's when painting kitchen cabinets becomes your first priority. With a splash of a new glossy colour, it returns to full function and provides for the family. Regardless of colours, the type, and quality of the dye matter most.
Let's break it down about the best paint for kitchen cabinets, shall we?
Types of paint for kitchen cabinets
Built with wood or wood variations, lockers are hard to spray. Mostly because of how delicate they are or how much they allow the dye to stick.
Based on how the best painters in Dublin see it, you can only choose between two paints, the old school or the new type.
Oil paint (old school): It is a slow-drying pigment suspended in linseed oil (drying oil). Can be used with varnish for more glossiness or turpentine to lose the paints' viscosity. The majority use this emulsion for sideboards.
Latex Paint: It is a water-based colour made with acrylic resin. This type of dye is made from non-toxic organic compounds which create almost no VOC. It sticks well to wood and is a suitable paint for a large surface area.
Let's get into the details.
Oil-Based Paint for Cabinets:
It's the first thing the best painters in Dublin would go for due to its resilience. Oil-based paints are the most durable and easy to clean. Even if you open the closet doors with greasy hands, you can easily scrub the surface without harming the coating layer. The emulsion is glossy enough to prevent dust and dirt to stain the surface wood.
But Oil-based paints are not all cherry blossom. It dries very slowly and takes more than 15-16 hours to become dry enough to touch. That's why many painting contractors Dublin avoid oil-based colours for cupboards.
Without proper air circulation in the bakehouse, which is normal, it gets a little fuzzy around the edges. Also, you could notice some yellow tint as the coat ages, making the kitchen cabinets look shabby.
| | |
| --- | --- |
| Pros  | Cons |
| Easy to clean | Emits heavy VOCs |
| No damage from scrubbing | Very high dry time (~16 hours) between each coat |
| Smooth paint surface over wood grains | Becomes shabby looking in a low-light environment |
| Durable and long-lasting |   |
Latex Paint for Cabinets:
Latex paint is a new trend in the selection of dye for kitchen closets. This type of dye is becoming very popular recently due to its advantages and has been recommended by all professional painters in Dublin.
It is a water-based solution that dries very quickly to the point that painting kitchen cabinets become a day's work. This doesn't produce VOCs and it's good for painting kitchen cabinets within enclosed spaces. The formula is very easy to use on the surface of the locker, especially in large areas.
The downside of this, you need a lot of prep if you want to achieve a smooth finish. Latex colour is not the best for cleaning and scrubbing but some new latex dye does have better durability. Even the finishing ends up in multiple shades if the dye lacks enough prep.
Fun thing is, you can use latex over any old paints without a second thought. The water-based formula has enough adhesiveness to ignore the sanding and stick to the already painted surface. This fact makes latex the best paint for kitchen cabinets and our painter Dublin.
| | |
| --- | --- |
| Pros  | Cons |
| Dries quickly | Less durable than oil-based paints |
| No VOCs, totally eco-friendly | Doesn't last very long |
| Has enough adhesiveness to stick over old paints (both latex and oil-based) | Needs a lot of prep work |
| Very easy to apply |   |
Types of Kitchen cabinets & What paint used for painting kitchen cabinets:
Before you pick up the paintbrush over your kitchen cabinets, you need to determine what type of wood you are facing. The cabinet may be built with solid wood, veneer, MDF, or laminate. Each type of material has a different impact on the emulsion you will be using. So, better pick your paint for the kitchen hutch accordingly.
Wood Locker: Paint sticks to roughen surfaces the most, making wood the perfect material for spraying. The grainy surface of the wood catches dye droplets easily, making the whole process easier and more effective. Sanding can help to smooth the wood texture and let it settle more perfectly. Wood locker needs proper sanding or deg loser if there are remnants of the previous paints. Polished woods need a proper clean-up before applying the colour. Whatever you choose, oil-based or latex, use a thick coat of primer to make the surfaces smooth and even.
Wood Veneer console: Painting a cupboard with wood veneer needs more attention due to the structure of the veneer (a thin hardwood layer). The edges may chip away or come loose over time. Just use some glues between the layers to prepare it for colouring. Normally, the surface is too glossy to let the spray stick to it. Any rough sanding may puncture the veneer layer so, you need to be careful.
MDF sideboard: MDF sideboards are great material for coating. The MDF has a rough surface that adheres to the paints very well. Although, you need to prepare the MDF well if you want to preserve its quality. By nature, MDFs absorb moisture from the air, making them vulnerable over time. The best way is to seal the edges with an oil-based primer to prevent moisture from soaking in them.
Also, it is best to apply an oil-based primer on the surface before using pure white paint. This way, the surface won't swell due to the water-based colour of the bakehouse buffet and also helps to protect the MDF for a long time.
Laminate cabinets: These are definitely harder to coat than other kinds of cabinet woods. There is a plastic material glued on top of the wood which prevents normal paints from sticking to the surface. This type of cabinet needs extra prep work like sanding the surface well enough to let the dye settle in. Another way is to use a laminate primer or fine paints for the kitchen cupboard. This is a special coat that is made to bond perfectly with the laminated woods with a quality finishing.
How to get the best finishing
Spraying kitchen lockers using the right dye is very important. It's common for people to get rough with their cabinet doors, drawer front, and sometimes the shelves. As the lockers are exposed to touching, slamming, and sliding things inside quite often, you need the durability enough to withstand the constant abuse.
To understand which kind of finish saves the face of your cookhouse sideboard, let's learn about the finishes below-
Semi-gloss: This type of finish has better durability to withstand movements on the lockers over a long period of time. Expert says you can clean a semi-gloss surface using water and it won't brush off any part of the coat. It's also highly resilient against scrubbing.
Gloss paint: It can be considered the turtle shell to spray your bathroom cabinets. It forms a super solid layer above the wood that prevents almost all types of scratches and bruises. It's cleanable, durable, and has a great sheen.
Eggshell or flat: Modern Eggshell or flat paint is the type of spray you don't want on your hutch. This type of finish doesn't offer any protection against scrubbing. It's non-washable and barely has any glossiness.
How the Painting in Colour Dublin provides you with the best painting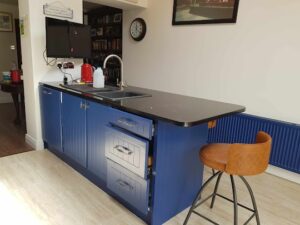 As you have seen everything, painting kitchen cabinets is a difficult task. In the hand of an amateur, the whole work would ruin at any time. But you can prevent that from happening by hiring the best painters in Dublin. We are the only decorator contractors in Dublin who has the highest degree of perfection in our jobs. We only use the best emulsion for the kitchen chest using Fleetwood and Johnstone's paints. Here are some tips from our best painters –
Use rollers with a quarter nap on the flat cabinet door for a quick but effective finish.
Use paintbrushes on the panel chest as it needs extra care.
For water based paint, always use a synthetic brush.
Remove any hardware from the closet and properly fill unused holes and sand them before applying the primer.
Remove drops from the glass surface using razor-sharp blades.
Conclusion:
Painting kitchen cabinets is a great way to improve the quality of the space you are living in. But a quality job always needs a quality hand to finish. Call us right now and get the best kitchen painting service in the vicinity of Dublin.
Thanks for staying up!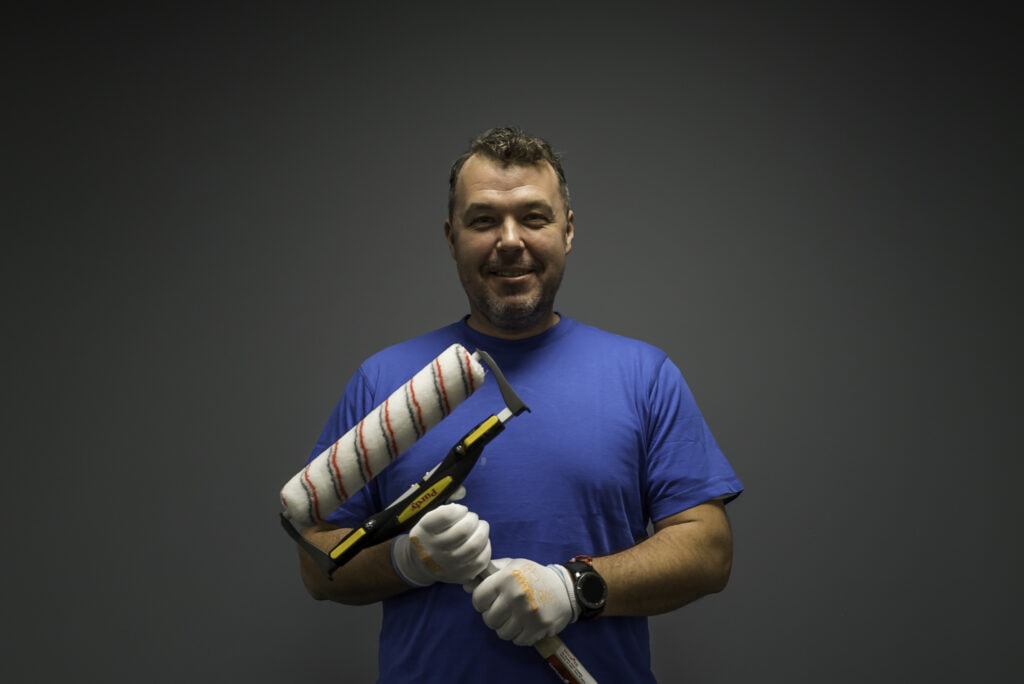 Robert Martinak is a Painting Technology Specialist with over 30 years of experience in the field. He is based in Dublin, Ireland and has extensive knowledge and expertise in the application and management of painting projects.